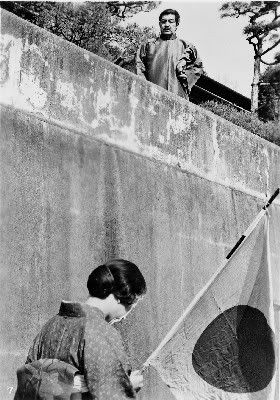 Firstly, apologies for being so long out of touch.
Yoshida "Kiju" Yoshida
(whose Eros Plus Massacre this blog is named after) directed his last film for some time in 1973. This was a strange biopic about a military obsessive and nationalist socialist named
Ikki Kita
, somewhat in the style of Hitler, who encouraged a coup against the Japanese government in 1936 (infamously known as the "
February 26th incident
".) I say strange because a number of choices were made which gave the
film a unique place in the history of biopics and specifically historical reenactments of the coup. Rarely has a biographical film been done with such a confident and dramatic touch.
Yoshida's framing is the stuff of film legend, nearly always placing figures at the edges of cinema (and therefore not altogether video friendly, before the advent of DVD that is.) It's a nearly dizzying effect handled graciously, which lends the events a larger than life feeling, that feels artistically justified instead of rammed down your throat. The black and white colors are used to their most effective ends, with entrancing expressionistic details. Textures of wood and granite play a large part in setting moods, along with a lack of establishing shots and action sequences, making this a more quiet film than anyone would expect of its reputation and name.
The music choices of Ichiyanagi Sei, who worked on a number of Yoshida films, recalls Jissouji's
Mujo
(or This Transient Life) which seems as interested in minor key fiddle flourishes as Takemitsu styled percussion explosions. The score also boasts a twice repeated analog keyboard motif, which shows the melancholy and absence of life among the militarists. It underscores both a reprehensibly dour dream sequence, and channels an avant funeral march before the credits roll. Watkins' Edward Munch and 32 Short Films about Glenn Gould come to mind in the use of music effectively rendering someone's life story to film.
In regards to its place among reenactments, as Joan Mellen noted in
Waves at Genji's Door
, most filmed versions of this story encourage a sentimentalism of the officers involved, as they were merely doing the most honorable thing they could imagine by assisting the Emperor in getting rid of the waste of civilian bureaucracy. The officers are treated with sympathy, but more for their naivete in the face of the unknown future, rather than Yoshida siding with their proto-fascists ways.
The major emotional issues in the film stem from Ikki's childhood and paternal issues towards his stepson, and how that carries over into his dealings with one of the more inept but sincere acolytes. Ikki's dealings with authority figures is flippant at best, and he seems to regard society as a mere gesture, with martial law being the only true way for humanity to progress. Yoshida's rendering of these beliefs should be held up with his even more powerful Eros Plus Massacre, where Taisho anarchism and the late 60s student movement are entangled and commenting on one another. There, Yoshida appears to be telling us something about the nature of humanity, in that it doesn't really change, but only cons one into thinking it will. In Coup d'etat, Yoshida seems to be saying not only will things remain the same, but they're usually worse than you realize.